I will write about the free paper pattern of "Triangle bag of bag" and how to make it.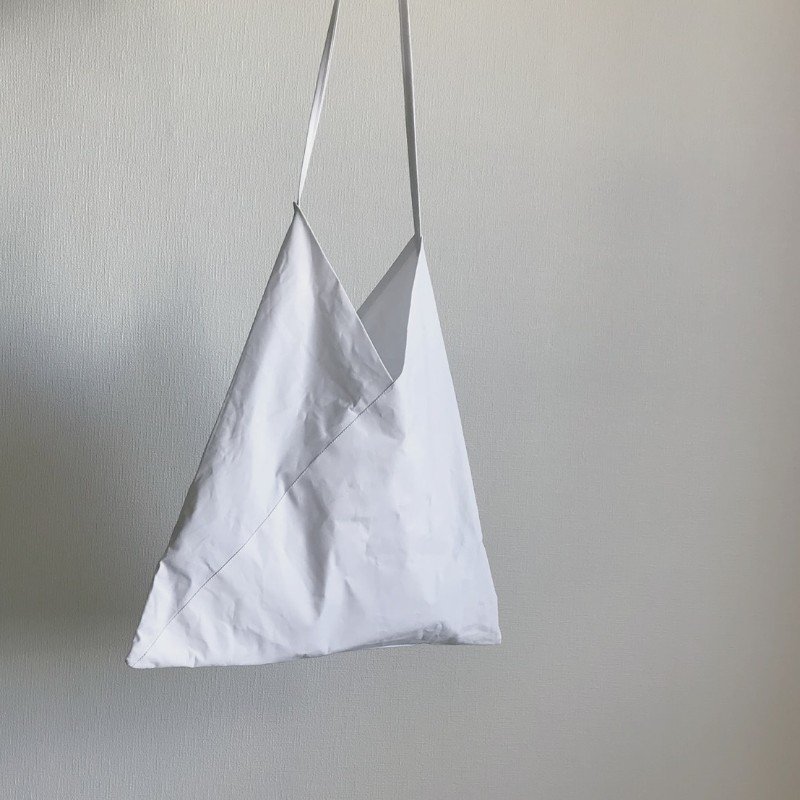 It is a bag that applies "Azuma bag" (also called Miyuki bag).
A combination of triangles, this bag is a fashionable and fashionable accent.It is a design that men can also use.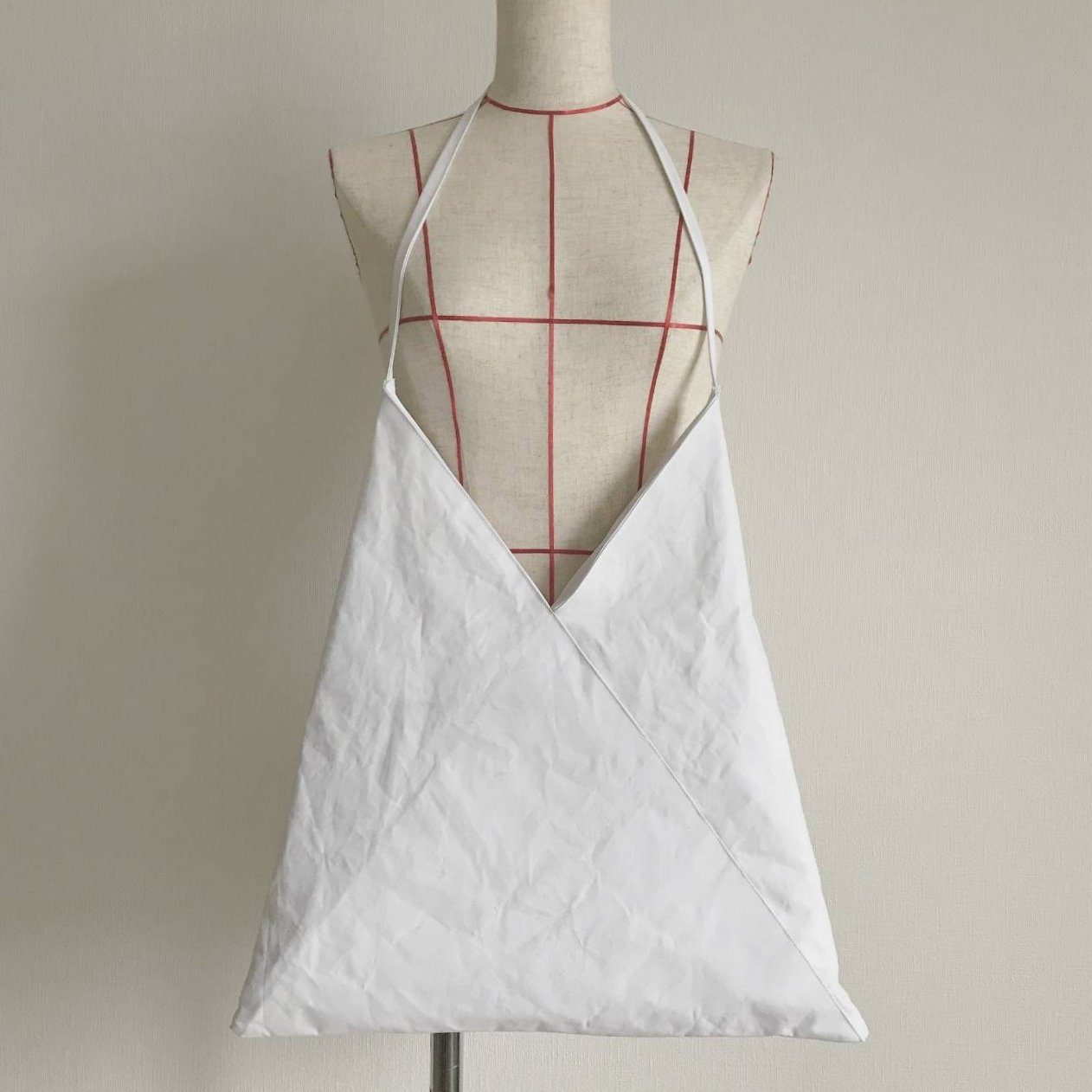 All are straight and easy to draw.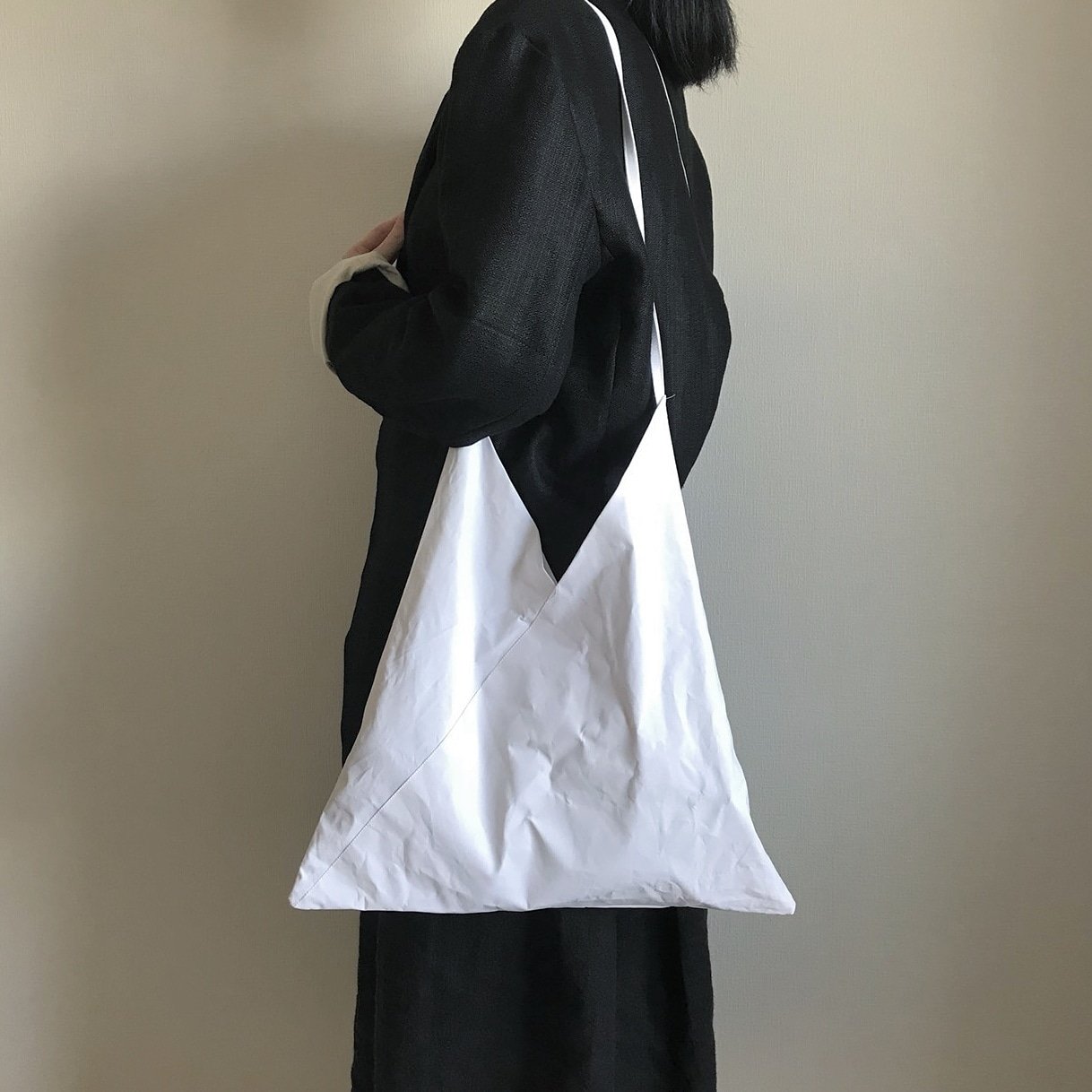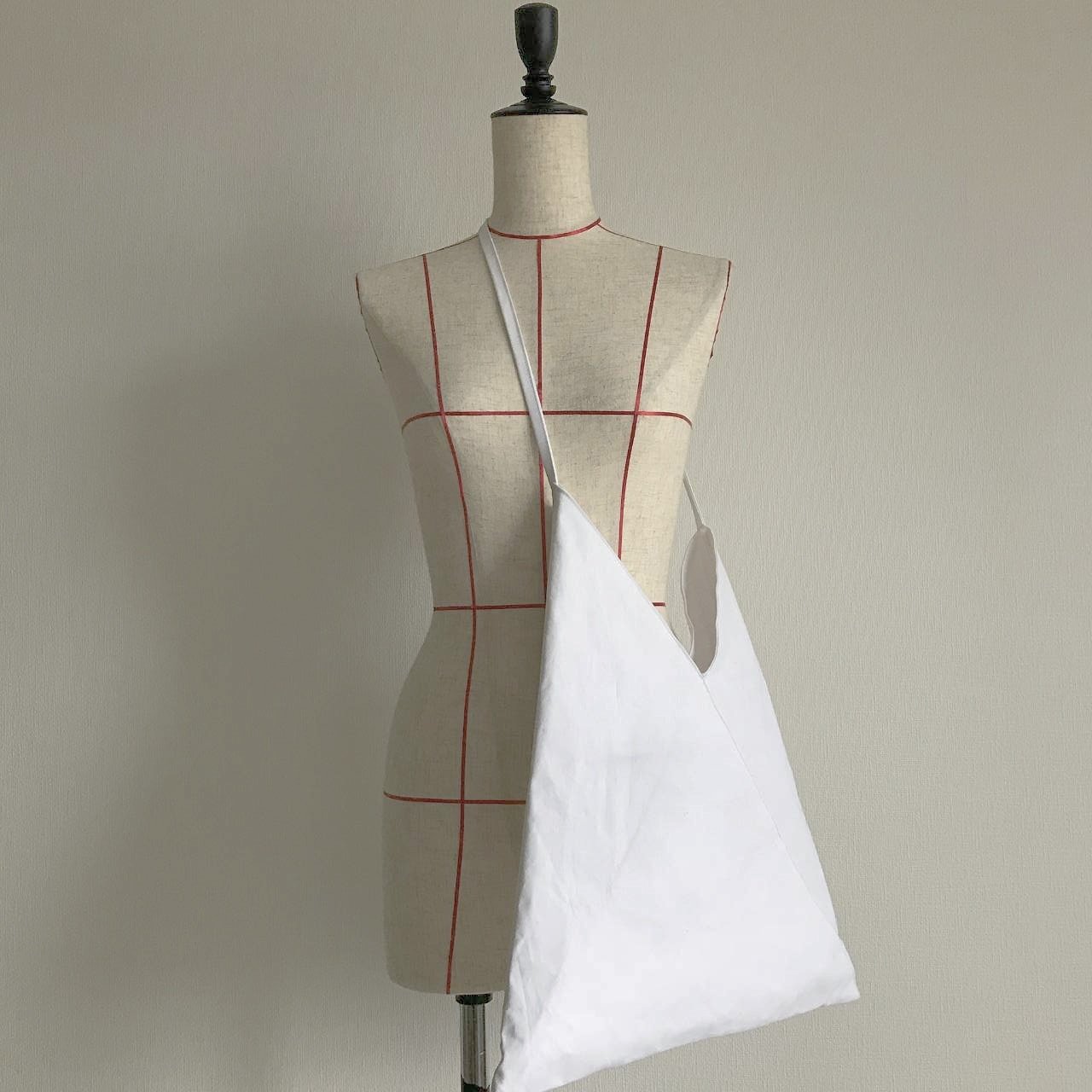 You can use it like a handbag or a shoulder bag by changing the length of the string.Please arrange it to your liking.
My junior who used this went to work with a lunch box in addition to the luggage I usually carry with me.Even for me, there is more capacity than I expected and I can enter various things!I felt it when I made it.
size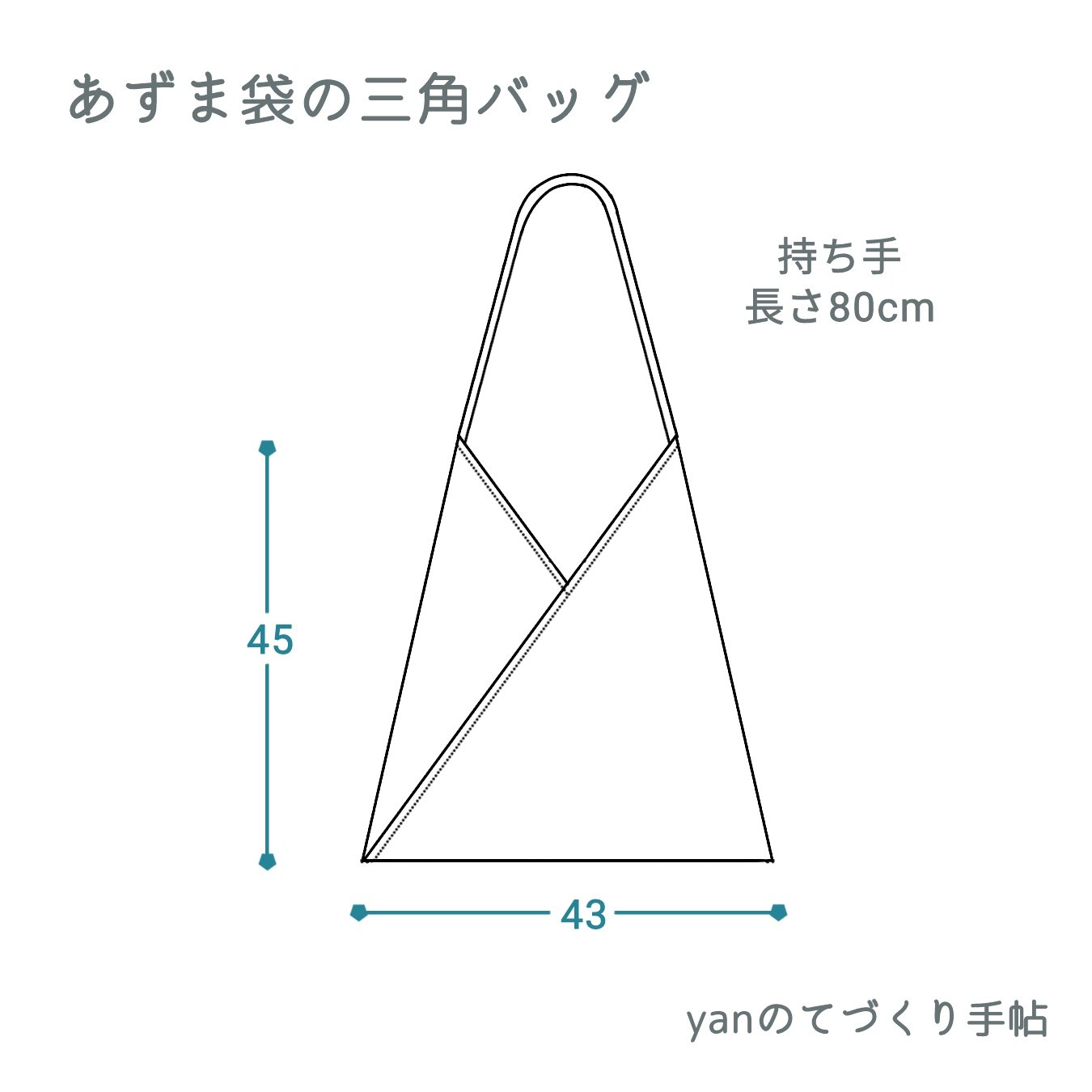 Ingredients
・ Cloth width 110 cm x 1.4 m
・ Sewing thread
★ It is made by attaching a backing cloth.If you want to use a different backing cloth, prepare a width of 110 cm x 70 cm for each of the front and back cloths.
★ I used a cotton cloth this time.A firm and firm cloth is recommended.It's also cute to make it from wool for winter ♪
Your work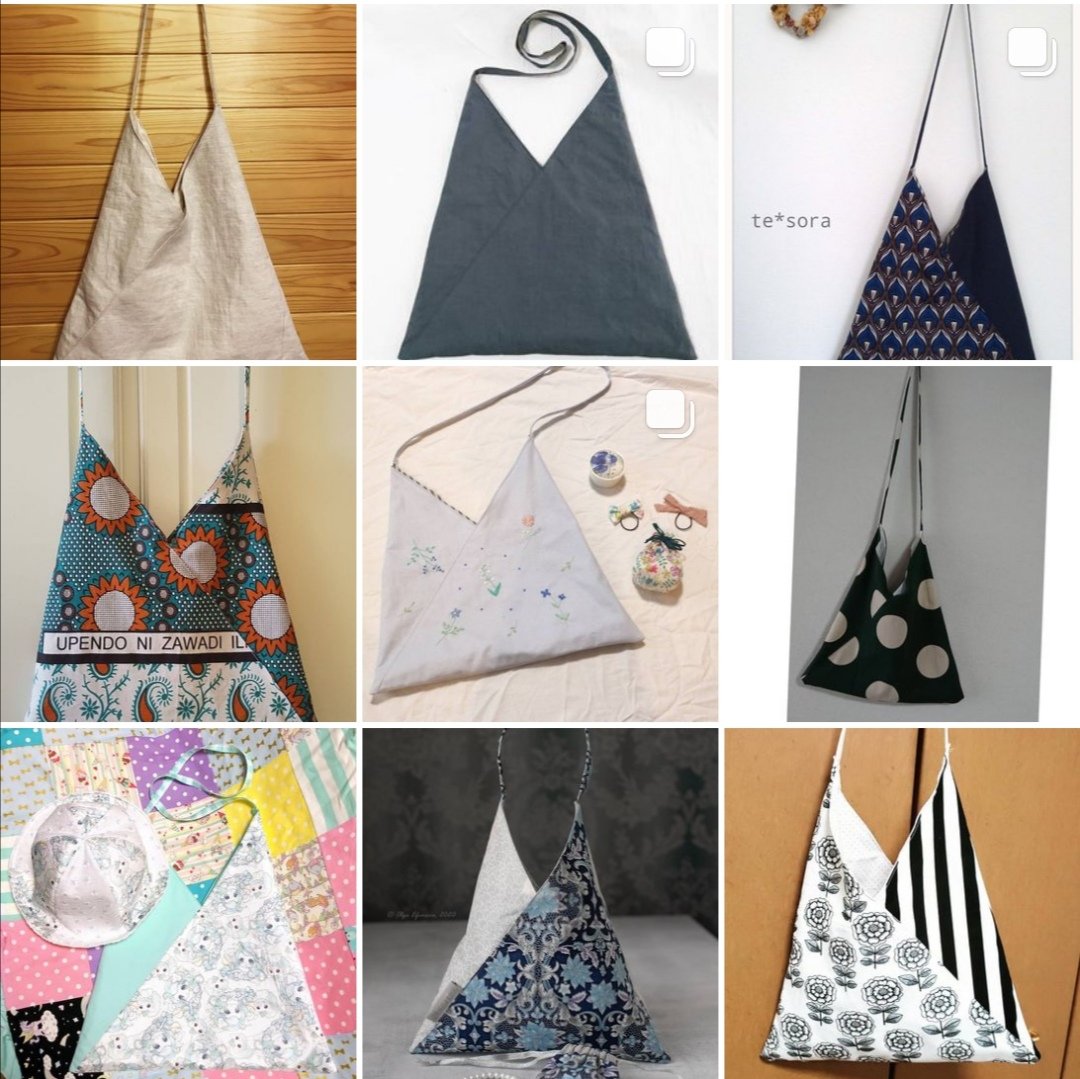 It is a work of readers posted on Instagram. ⇒View more
It will be helpful for pattern matching.Thank you!
Recommended color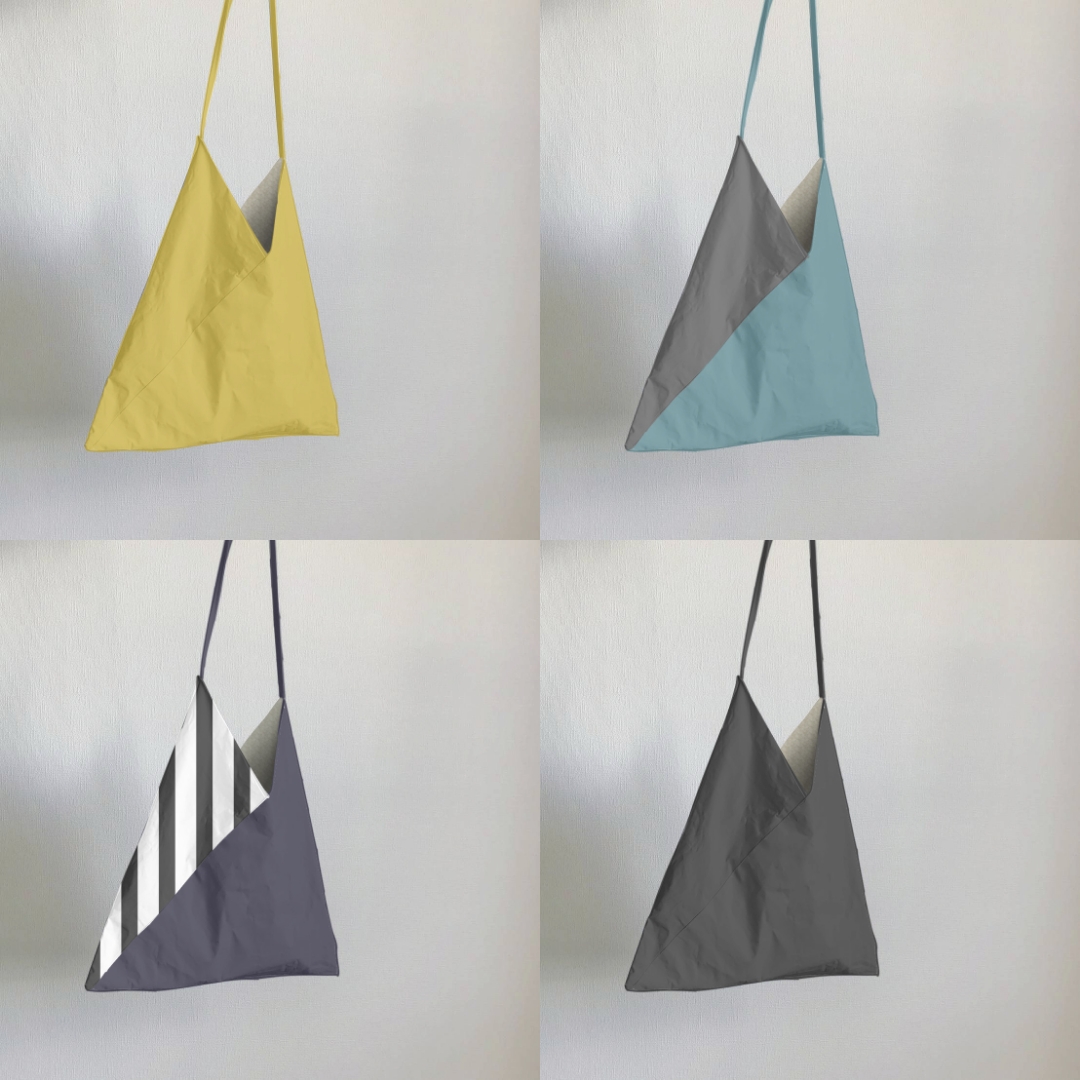 Color variationsThis articleIt is summarized in.
Recommended cloth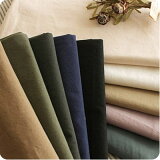 Fabric Forest Cotton Light Canvas 50cm Unit Cloth Cotton Plain Fashionable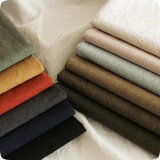 Fabric Forest Sun-dried cotton linen fabric Plain dyed 50 cm unit cloth Fashionable
↓ The embroidery fabric is also cute ♪

[Lace fabric] Yarn-dyed dungaree / butterfly pattern lace (RG-28082d)

Tools
・ Cutting scissors
·sewing machine
・ Pin
・ Thread trimming shears
·iron
My professional sewing machine
Pattern
★ Please refrain from commercial use of paper patterns.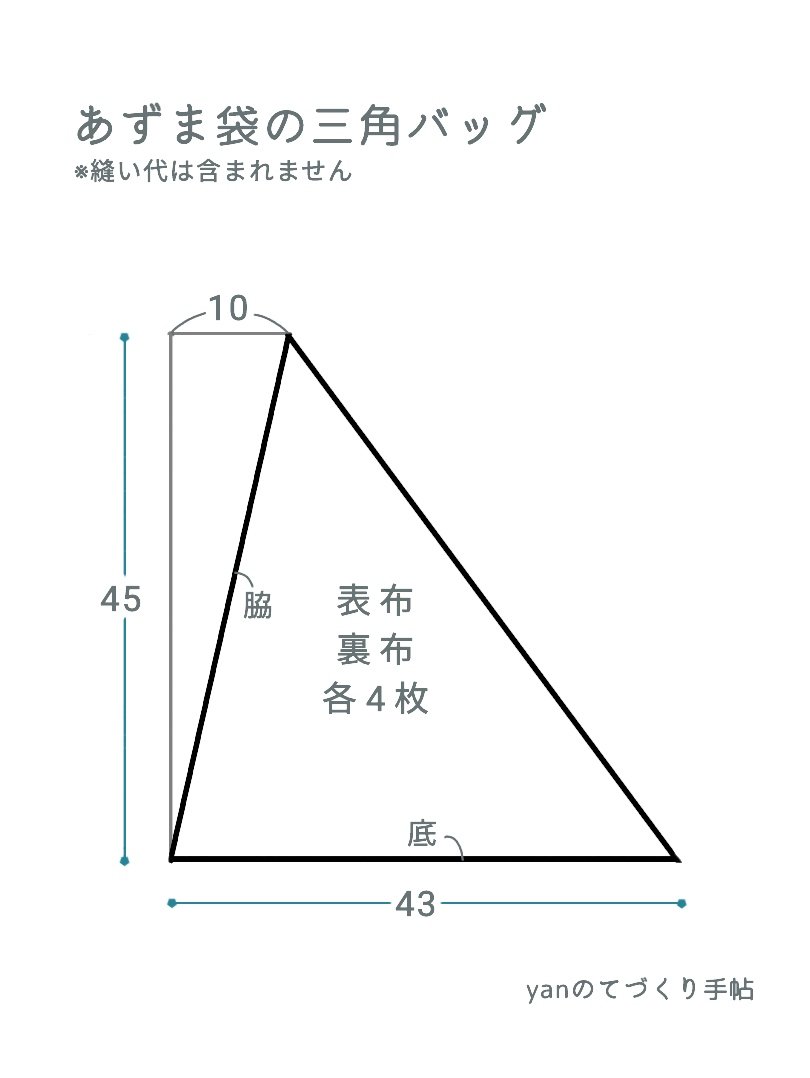 ★ String pattern [5 x 84 cm (including seam allowance)] If the length is not enough, please join it.
★ It is easier to understand when sewing if you put a mark so that you can see the "side" and "bottom".
★ Please add a seam allowance of 1 cm to the bag.
Cutting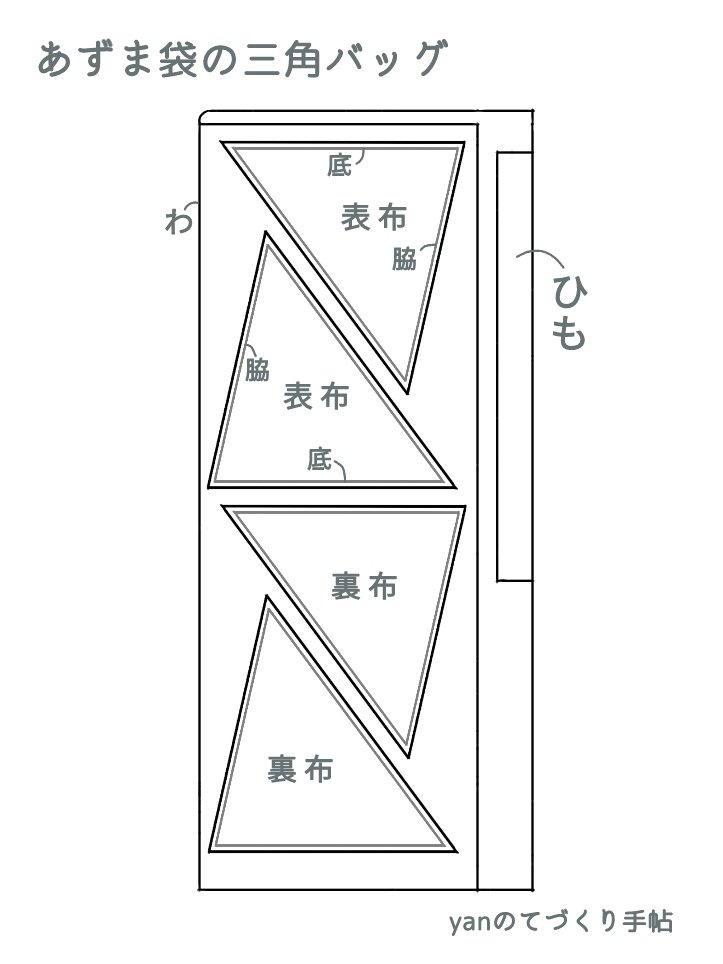 Method
[Preparation]
・ Make a pattern and cut it.
① Make a string
Fold it with an iron as shown and then sew the ends with a sewing machine.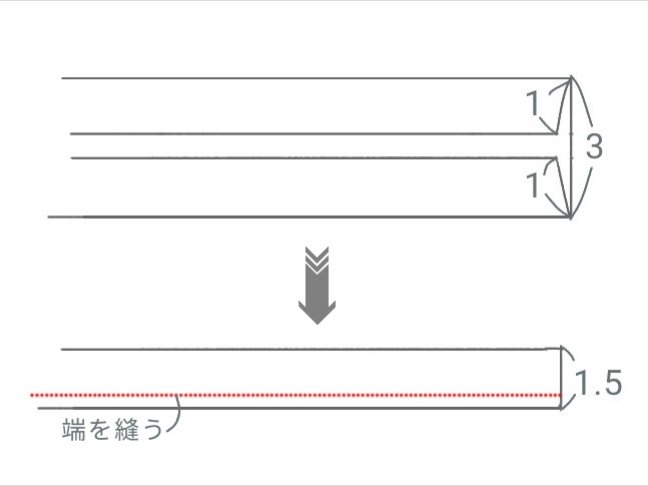 ② Sew the sides
Align two front cloths with each other and sew the sides (red line).The same applies to the backing cloth.Divide the seam allowance with an iron.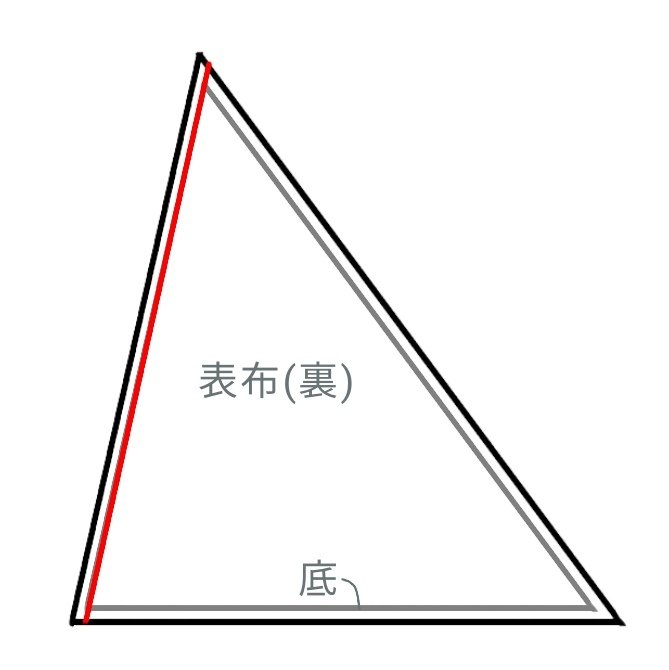 ③ Fold the edges and iron
Fold the red line in the figure and iron (fold so that the seam allowance is on the back side).All parts in the same way.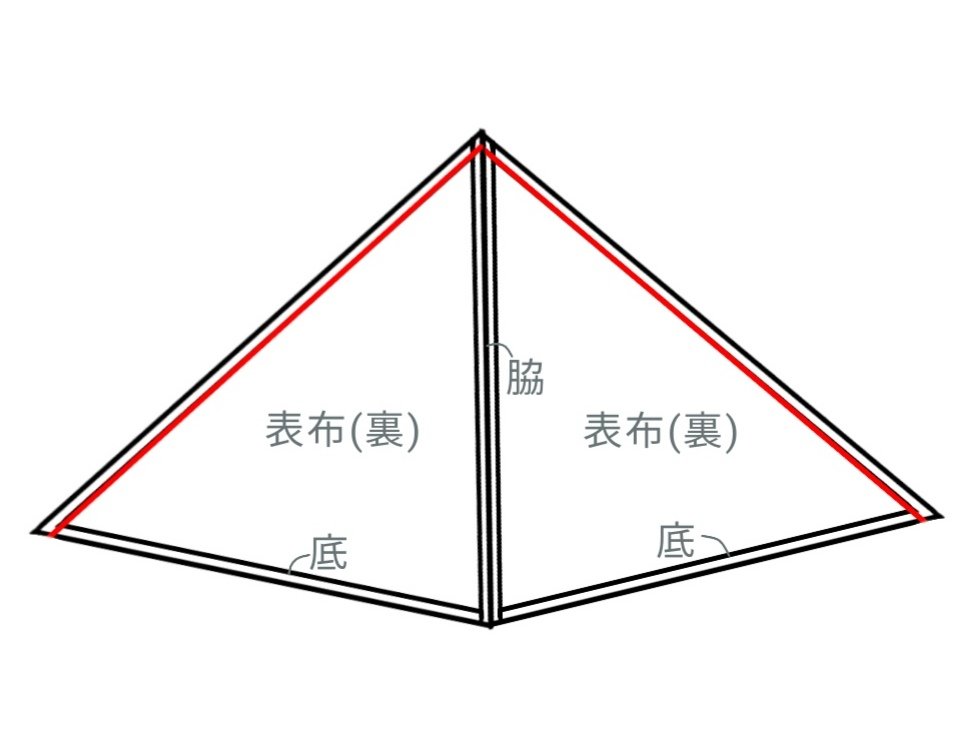 ④ Sew
Stack the two sets of front cloth as shown in the figure (let's align the bottoms exactly).Sew the red line part (about 2 to 2 mm from the edge of the cloth).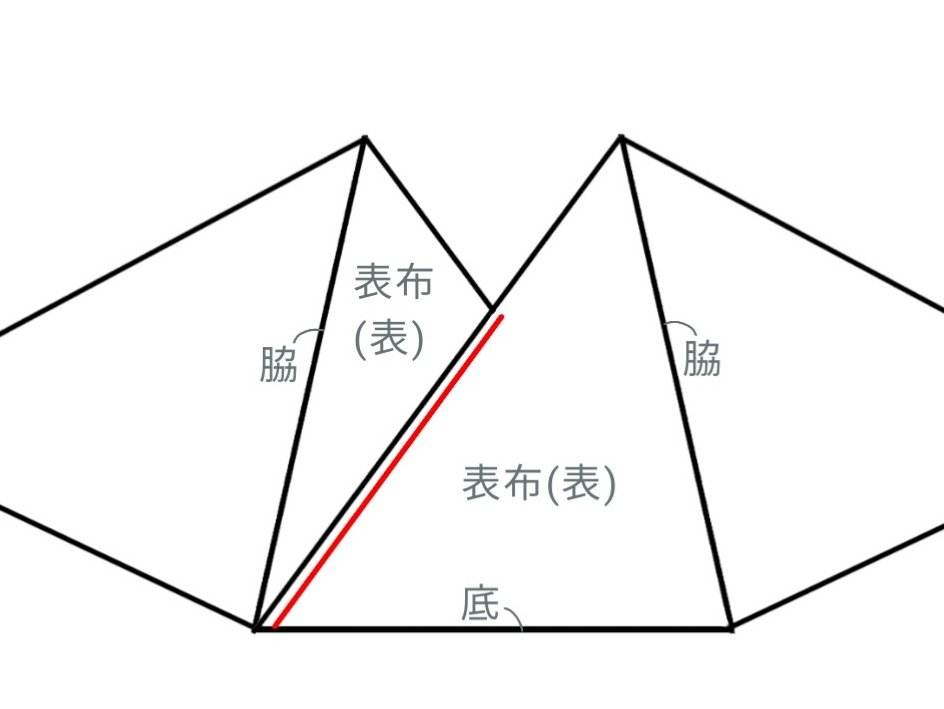 Do the same on the other side.Make the backing cloth in the same way.
⑤ Sew the bottom
Sew the bottom from the back side.The same applies to the backing cloth.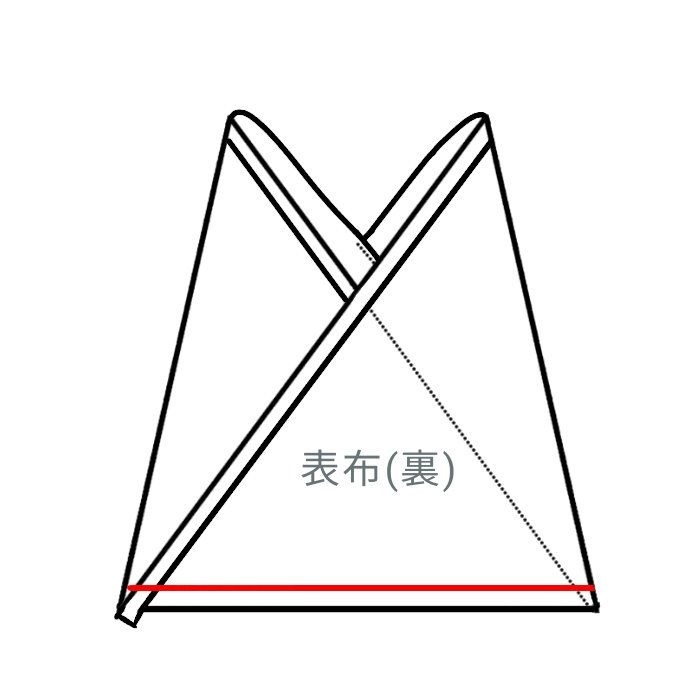 * You can add a town to your liking after sewing the bottom!
⑥ Attach a string
Place the string 2 cm on the front cloth and sew it. * It is easier to sew if you temporarily fasten it with a tie thread first.Check and adjust the length of the string before sewing with the sewing machine.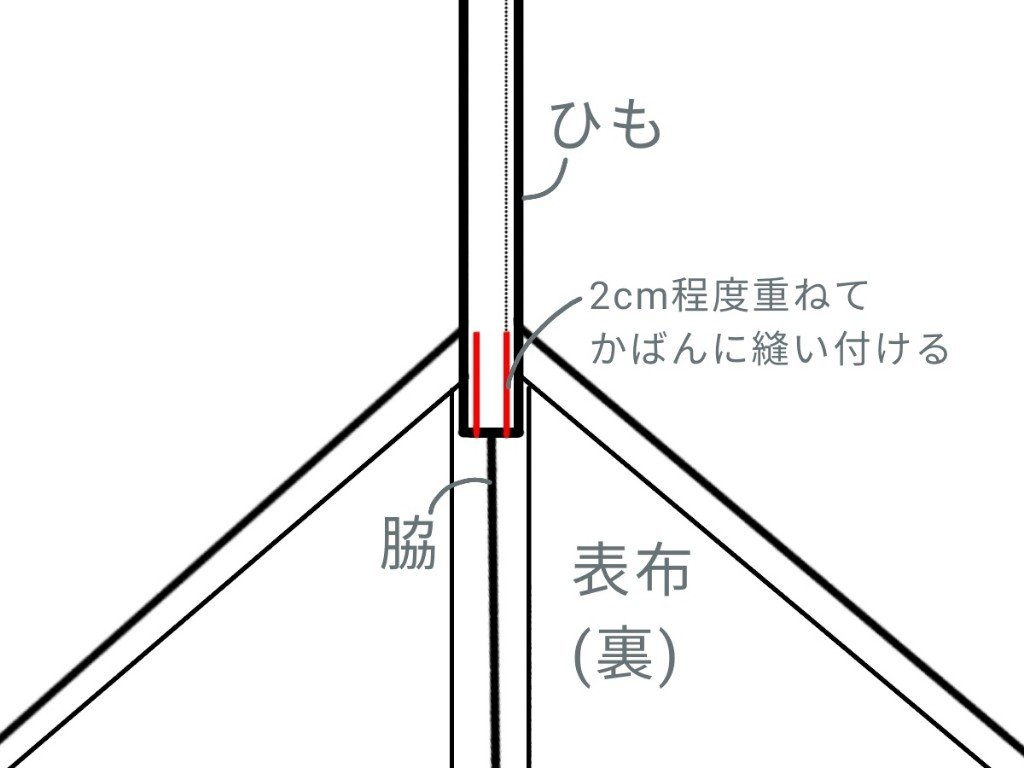 ---
⑦ Sew around
Align the front and back cloths and sew around them.
* Since the part where the string and the bag cloth overlap is thick, it may not be possible to sew with a household sewing machine.Please handle by hand-sewn only the thick part.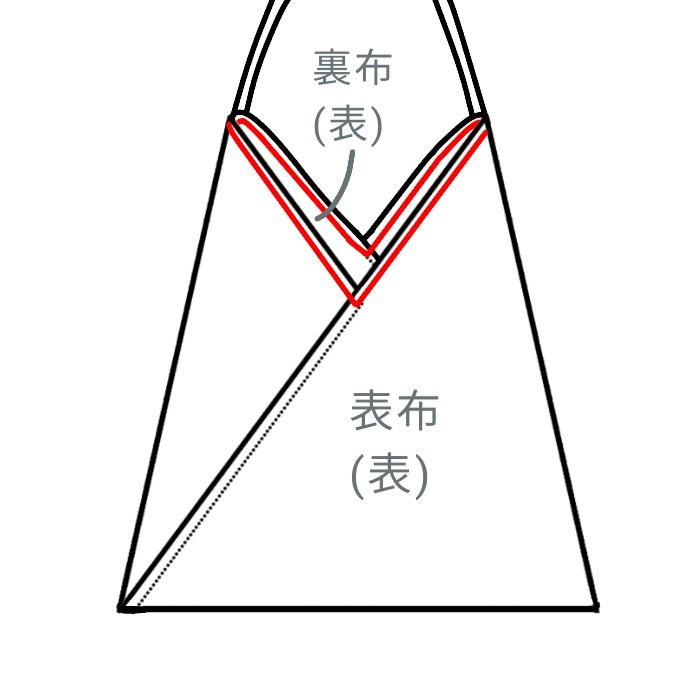 done!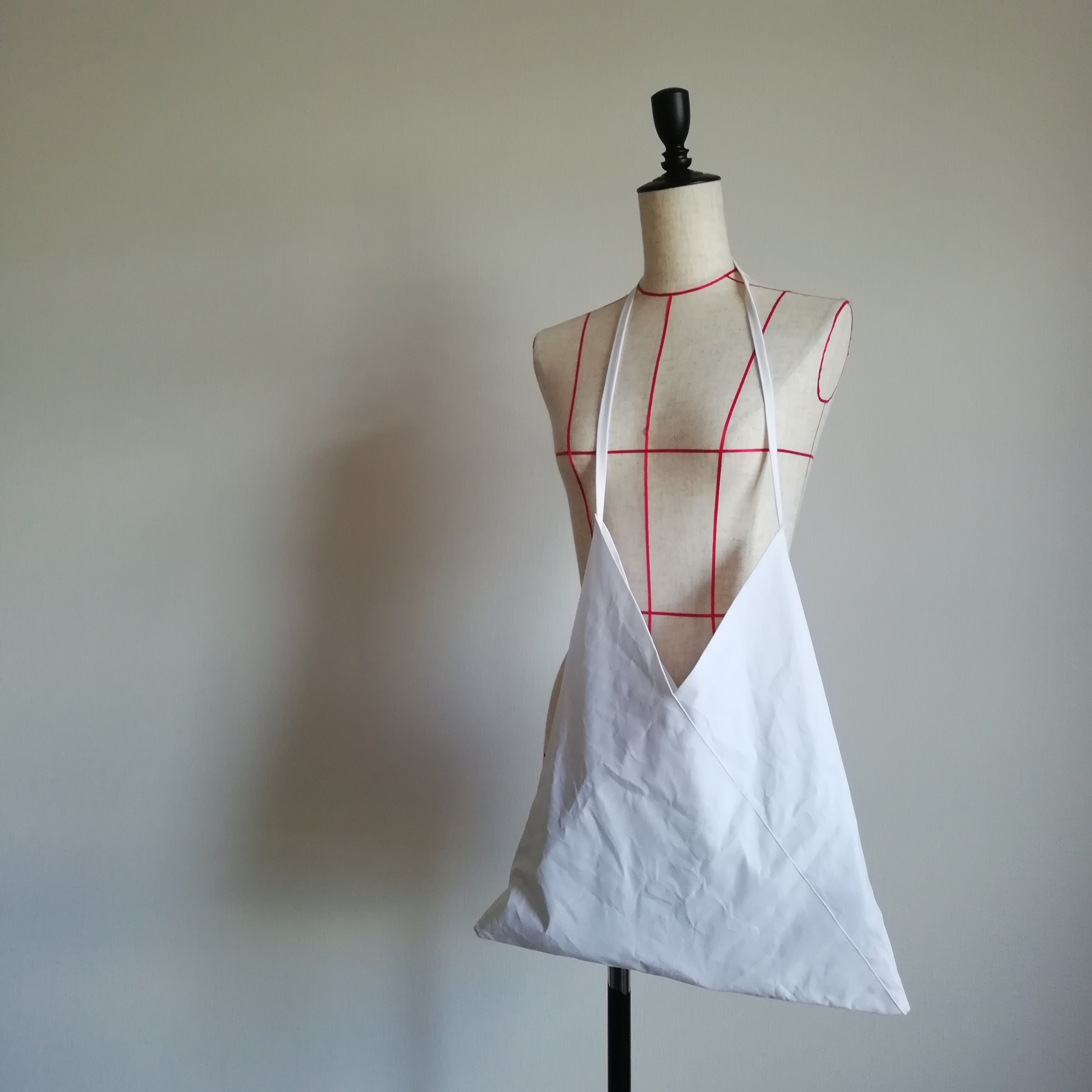 Finally…
Thank you for reading.
"Your workWe are also looking forward to your application.
Instagram
Posting work photos to Instagram
Please add a tag ♪
#yan's Tezukuri Notebook
#Azuma bag triangle bag
See you again!